Nutritional Information
Chicken per Serving
Pork per Serving
Beef per Serving
Seafood per Serving
Energy
3363

kj

2890

kj

3432

kj

2903

kj

Protein
60.5 g
72.5 g
65.1 g
44.8 g
Fat
• Total
19.3 g
15.8 g
19.0 g
11.6 g
• Saturated
5.1 g
5.5 g
6.3 g
3.0 g
Carbohydrate
• Total
96.8 g
96.8 g
96.8 g
101.8 g
• Sugars
21.1 g
21.1 g
21.1 g
21.6 g
Sodium
3756 mg
3769 mg
3791 mg
4548 mg
Noodle Nutritional Information
Did you know that noodles can help you lose weight? By eating noodles you raise your fiber intake and dramatically lower your calorie intake.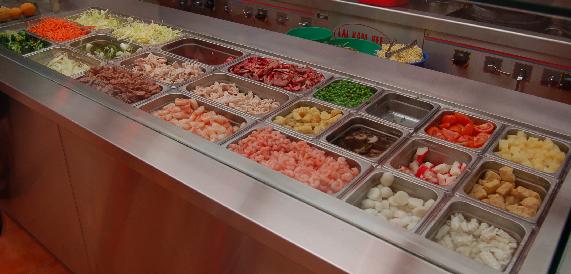 Some facts on Noodle:
Noodles do not contain sugar
Noodles lower cholesterol levels
They are easy to digest and encourage healthy bowel function
Noodles are a great source of protein and carbohydrates
Noodles contain vitamins and minerals including thiamin, riboflavin and iron
Noodle are:
Low in calories
Low in fat
Is a great way to lose weight
Noodles are very diverse. They can be served hot or cold and with or without a dressing. Popular sauces include fried bean sauce, chicken sauce, duck chops and a variety of soups. A wide selection of vegetables, meat, fish and eggs can also be added.
What makes noodles even more popular is that they are a fresh, nutritional, easy and affordable meal. Even Albert Einstein enjoyed a daily meal of noodles!